The graduation season is approaching! It's time for fresh graduates to find a job. A good CV can help to get an interview, but your performance in the interview is the key to get this job. Here are some tips for preparing a job interview for you!
1. Before interview
– Gather information
Researching the company that you're applying to is an important part of preparing for an interview. For example, the company's history, products and services, job description, etc. Not only will it help provide context for your interview conversations, but it will also help you when preparing thoughtful questions for your interviewers.
– Practice
After you grasped some basic information, then it's time to practice.
2. During interview
– Make an impression
The hiring manager will meet several shortlisted candidates. You have to show your values and personality to impress the interviewer through your answers.
Here are 10 common job interview questions: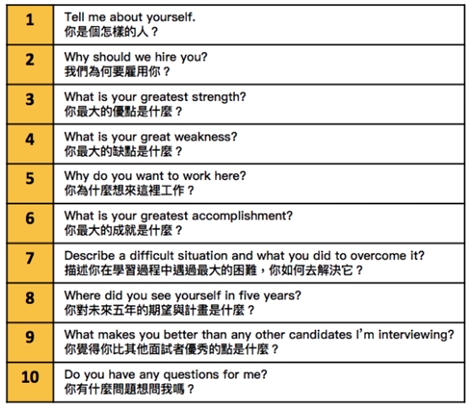 – Stand in your interviewer's view
The interviewer is expecting to hear what you can contribute to the company. You need put yourself in his/her shoes, to show your strengths and qualifications.
– Honesty is the best policy
Do not lie to the interviewer about your weakness or shortcoming. Be honest and show your effort in improving yourself.
3. After interview
– Write a thank you letter
If you feel good about this interview, you may send a thank letter to the interviewer to express your appreciation and interest to this job.
It was a pleasure meeting you yesterday to learn about the ___________ position with your company. I am very interested in learning more and continuing our conversation. I feel my background is a strong fit for your team. Thanks for your consideration, and I look forward to hearing from you.
Wish all of you good luck in your job hunting!