Applicable Person
Wall Street English General English course offers a comprehensive course for people who aim to improve their English level in all-round. We will personalize your course based on your learning objectives. If you want to brush up your English for daily life, travelling, business or academic purposes, this course can definitely help you to achieve your English learning goals quickly.
Curriculum Structure
Wall Street English Learning Cycle, the core to English learning, is a multi-stage learning process, which is based on the natural approach of acquiring one's mother tongue. Coupled with the natural approach and multi-method, our English course caters to the needs of Hong Kong people who aim to improve their English comprehensively in listening, speaking, reading and writing. Besides, our total English speaking environment, personal tutors and flexible learning hours also play an important role in students' learning experience.
General English course is separated into 20 levels to cater students with different learning levels. Our Education Consultant will arrange an English assessment test for you before you start studying to find out the best and effective way of learning English.
Learning Objective
General English Course Level
Learning Objective

LEVEL 1-2

This is for beginners. The content and exercises provide you with the basic framework for recognizing and using simple vocabulary and responding to basic questions in English. By end of this stage you will be able to write a simple email or online post.

Level 3-5

Student will learn to express themselves in everyday situations to accomplish basic tasks such as self-introduction and asking for directions.
Vocabulary and grammar come together and students form proper sentences and express themselves with greater fluency.

Level 6-9

You continue to build your skills as you enter this stage. You can hold a conversion with a good degree of fluency and read simple books and newspapers.
You can clearly say your opinion and discuss every day, practical issues in a conversation.

LEVEL 10-13

At this stage, you can converse with a high degree of fluency and are able to comprehend complex ideas expressed in English.
You can also master intermediate writing skills to cope with your daily work.

LEVEL 14-17

In Milestone you will build your conversational fluency, writing proficiency, and reading ability through advanced exercises.

LEVEL 18-20

In this stage, student will continue to improve fluency and master complex language, phrases and expressions.
You can use English in a proper social and professional settings.
Diversified learning
Using innovative state-of-the-art technology, small group interaction and practical Social Club activity, Wall Street English provides you with a comprehensive, unique multimedia English learning experience that helps you improve your English skills in the most effective way.
Commonly Used English
The content is constructed around work, business, social and travel English, which is not only more interesting for students but also highly relevant.

Self-paced study
At Wall Street English, you can adjust your study pace according to your own needs, so you don't have to wait for students who are learning at a different pace to catch up.

Flexible study hours
At Wall Street English, you'll be able to book your own English class anytime during our operating hours. And with our English Anytime service, you have the flexibility to arrange your English study schedule.

English-speaking environment
All Wall Street English centres provide you with a total English-speaking environment. From the moment you enter our centre to the time you leave, you will only hear and speak English.

Care your learning progress
At Wall Street English, we care about your English learning progress. Our teachers assess your progress comprehensively and regularly. Our unique progress tracking system and individualized service ensure that you will meet your learning objectives.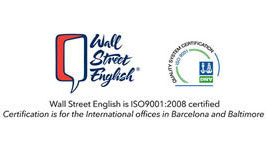 Globally Certified
Wall Street English is also one of the few global English language training centers to have the honor of successively passing ISO9001:2015 authentications.
TEFL/CELTA/TESOL international English organizations recognize all teachers in our centres are Native English Teachers and qualified by TEFL、CELTA or TESOL for English teaching.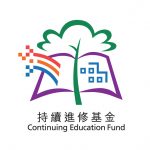 Qualified for CEF
Wall Street English English Improvement Course is qualified for the Continuing Education Fund (CEF). Eligible applicants will be reimbursed a maximum sum of HK$25,000*, upon successful completion of a reimbursable course and passing a specified benchmark test* provided by WSE.**
**For details of the reimbursement procedures, please visit here
Note: All promotion offers are not applicable to CEF applicants.
CEF course code: (English Improvement Course) 24Z01247-7
This course has been included in the list of reimbursable courses under the Continuing Education Fund.
The Office of the Continuing Education Fund does not have record of registration of this course under the Qualifications Framework.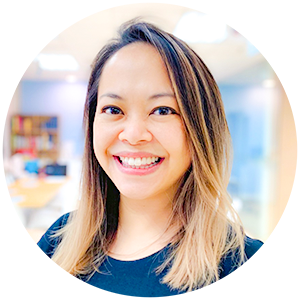 Penny Hin
Senior Service Manager
I always ask my students why they are learning English, I do this so that they are reminded of their English goals. However, what I have learnt in over 8 years of experience in teaching is that there are a myriad of different reasons why people want to learn English. Some want to further their careers, others want to emigrate, some want to travel the world and meet new friends, while others simply want to nurture a relationship with their grandchildren who live overseas. Whatever their reason, it comes down to being able to effectively communicate in different situations, no matter what your level of English is. Our General English course equips learners with the tools to communicate depending on their level of proficiency; from "Hello, what's your name?" through to discussing the various environmental issues that the world is facing today.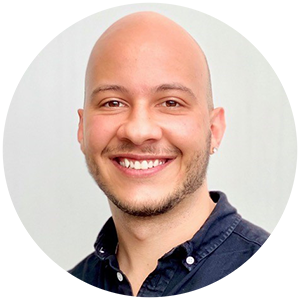 Gabriel Franchi
Senior Service Manager
For years, English has been an essential language for people all over the world who aim to improve their professional and personal lives. With over 1 billion people speaking English worldwide, learning the language can definitely help you pursue better life opportunities and significantly expand your worldview. Our General English course is designed to empower our students to use English in daily life contexts and everyday situations. Whether you're searching for better job opportunities, planning to move to an English-speaking region, study abroad in an international university, or use the language to access different types of entertainment locally and online, this is your chance! Our Wall Street English teams are ready to help you and make sure you find the right motivation to focus on your goals and enjoy your learning journey while improving your vocabulary, grammar, and overall comprehension skills. Becoming fluent in different languages has opened so many life opportunities to me that now I've taken as my life goal to help others in their journeys to accomplish their dreams and become the best version of themselves!
Tuition Fee
Wall Street English General English course is divided into 20 levels. Based on different English levels, learning goals and schedules of each student, total learning hours needed and tuition fee will be varied by individual.
Below cases are for reference only, actual tuition fee and total learning hours will vary according to personal circumstances.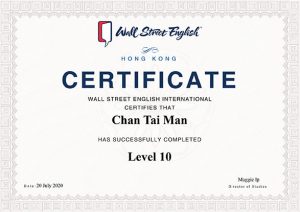 Student can get a certification of completion after study
*Terms & Conditions: General English: a minimum of 4 levels and 90 hours of study.
Student Reviews (Yuen Long Centre)