Wall Street English offers many major advantages over traditional English study programmes:

Flexible study hours
At Wall Street English, you'll be able to book your own English class anytime during our operating hours. And with our English Anytime service, you have the flexibility to arrange your English study schedule.

No location constraint
You are free to study at any of our 7 centres in Hong Kong.

Self-paced study
At Wall Street English, you can adjust your study pace according to your own needs, so you don't have to wait for students who are learning at a different pace to catch up.

Small classes
Led by a qualified native English-speaking teacher, each class is comprised of no more than 5 students who have reached a similar level.

Clear course structure
Each study unit has clear learning objectives and a set learning method to make it easier for you to master.
Relevant course content
The content is constructed around work, business, social and travel English, which is not only more interesting for students but also highly relevant.

English-speaking environment
All Wall Street English centres provide you with a total English-speaking environment. From the moment you enter our centre to the time you leave, you will only hear and speak English.
Unique learning experience
Using innovative state-of-the-art technology, small group interaction and practical Social Club activity, Wall Street English provides you with a comprehensive, unique multimedia English learning experience that helps you improve your English skills in the most effective way.

Student care programme
At Wall Street English, we care about your English learning progress. Our teachers assess your progress comprehensively and regularly. Our unique progress tracking system and individualised service ensure that you will meet your learning objectives.

Results guaranteed
Wall Street English provides a 100% course guarantee.

Globally Certified
Wall Street English is also one of the few global English language training centers to have the honor of successively passing ISO9001:2015 authentications.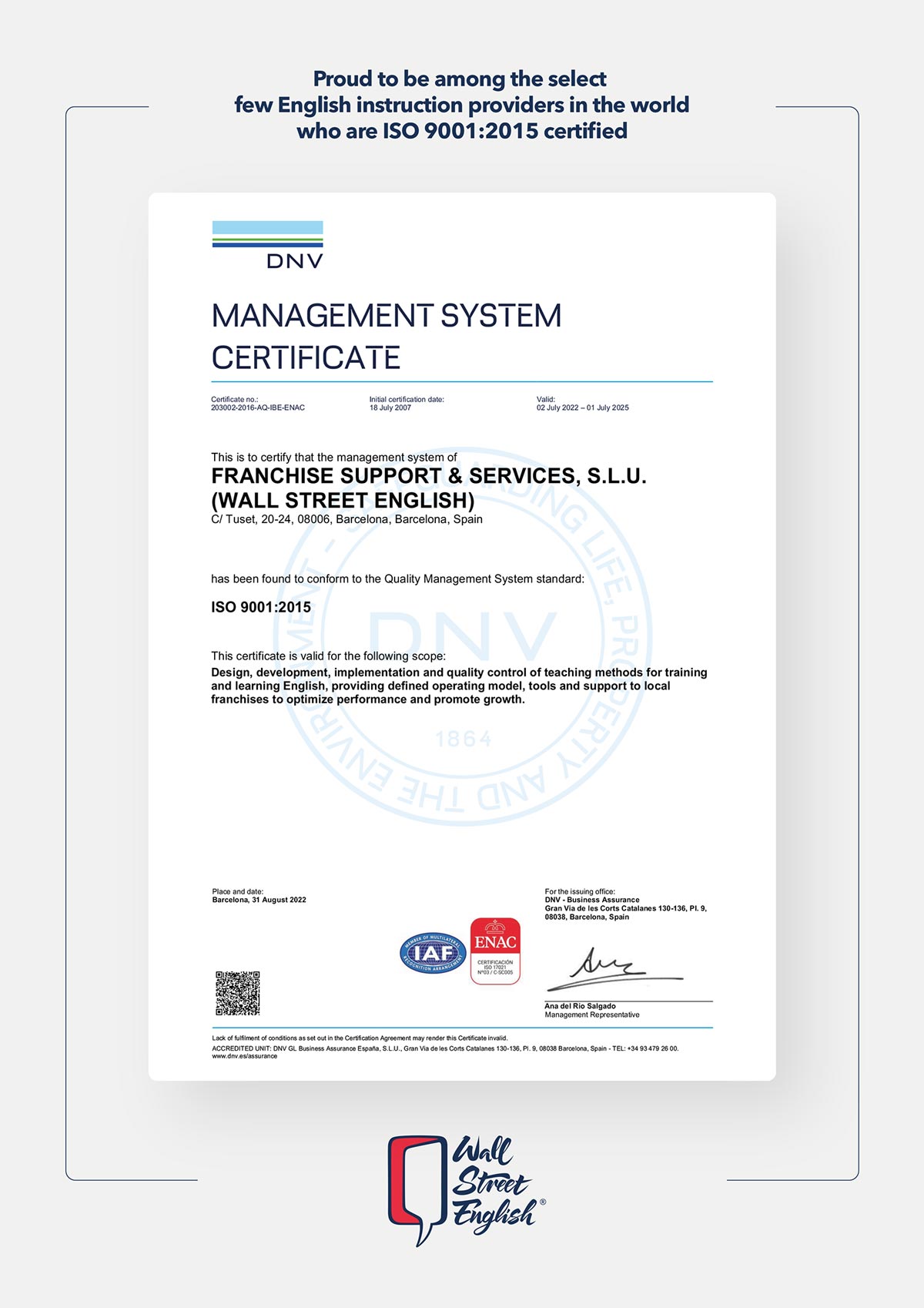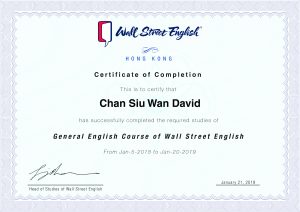 Student can get a certification of completion after study
Terms & Conditions:
I. General English: a minimum of 4 levels and 90 hours of study.
II. IELTS: a minimum of 90 hours and at least 80% attendance.
III. DSE: a minimum of 80 hours and at least 80% attendance.
IV. Business English: a minimum of 12 units and at least 80% attendance.