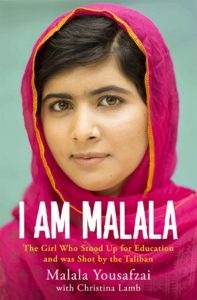 Beautiful and heartbreaking. Told in a strong, clear voice that makes it hard to believe it comes from a child. It's no wonder that she became the youngest Nobel Peace Prize winner at the age of sixteen.
This is a firsthand account of how the Taliban took control over the Swat Valley, Pakistan. Malala walks us through her life before, the rise of the Taliban and ultimately the price she paid for voicing out. 
A refreshing perspective of the turmoil in the Middle East from a young, Muslim girl in Pakistan makes this an eye-opening book. Malala's resilience and courage against the banning of education for girls under Taliban rule is inspirational.  
By WSE teacher Penny Hin