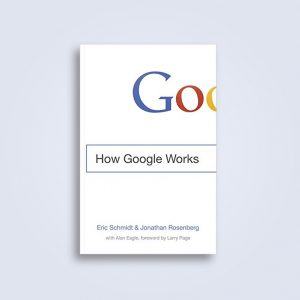 If you ever wonder how you can operate a company successfully, why not take some advice from the CEO from the best company in the world? This book is written by former CEO from Google, and you know there is going to be something special and profound that other companies have missed. The two talk about the culture that is unique to Google, which makes it a company many people want to work for. If you are already an entrepreneur, you can get some insights from these experienced and successful people, and see what you can take from them to bring benefits to your company.
The book is surprisingly readable because the authors didn't use difficult terms or jargons, but include interesting, sometimes funny examples to explain what they mean. Does your company have "something a group of marketing and communications people conjured up one night with a six-pack and a thesaurus," which some may call a "company slogan"? They go through many things that are detrimental to a company, but many people at the managerial decide to keep. Want your staff to really enjoy working for the company? This book may offer you some suggestions.
Besides the fun that is guaranteed in this book, they also address key issues that every entrepreneur or entrepreneur-to-be should be aware of – for example the Internet. The operating model that of the twentieth century is very different from that of the twenty-first, because of the widespread effect of the Internet both on the customers and on company operation. The authors offer advice to work with the invention, with events they have had in the past that they think are helpful during their time in Google. Ever wonder how a company should make use of the Internet? Ever wonder why Google decided to leave the biggest market, China? You will find the answers to these questions in the book too.
By WSE teacher Jorge Carvalho